Mr. Jay Chatterjee MRCOG, DFSRH, PhD (London) as a Gynaecologist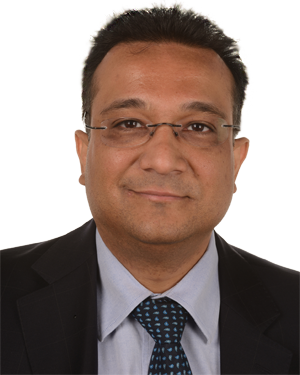 Mr. Jay Chatterjee is a Consultant Gynaecological Surgeon at the Royal Surrey County Hospital NHS Foundation Trust (Guildford). He did his training in some of the best teaching hospitals in and around London before sub-specializing at the Hammersmith Hospital.
Mr. Jay Chatterjee provides all aspect of surgical gynaecological care. He has vast experience across the length and breadth of obstetrics and gynaecology. He is internationally known for his surgical expertise in advanced open abdominal and laparoscopic/robotic operative skills. He is skilled in advanced robotic surgery and fertility-preserving surgery. Mr. Jay Chatterjee is an expert and BSCCP accredited trainer in colposcopy. He is also known to perform complex key-hole surgery in women with endometriosis and sub-fertility.
Mr. Jay Chatterjee did his academic doctoral program at the prestigious Imperial College, London (Division of Surgery and Cancer, Institute of Reproductive and Developmental Biology, Hammersmith Hospital campus). He has published extensively in his chosen field and has lectured nationally and internationally on various subjects relating to women's health.
Mr. Jay Chatterjee is an avid supporter of education and his primary research interest is in translational research. He has published on clinical interventions improving patient outcomes from gynaecological pathologies. He is also part of the team involved in research in Human Uterine transplant in the UK.
Mr. Jay Chatterjee is extremely approachable and is well known for his patient-centred focus. Mr. Jay Chatterjee is known for putting an onus on the most up-to-date clinical techniques to ensure that he can provide the utmost inpatient care.
Medical Procedures
Women's Health
Advanced laparoscopic surgeon
Robotic Surgeon
Colposcopy
Abnormal smears
Genetic Oncology
Genitourinary Medicine (GUM)
Hysterectomy
Hormone replacement therapy
Fibroids
Endometriosis
Special Interests
Heavy and Irregular periods
Ovarian cysts/masses
Cervical cancer screening and treatment
Fertility sparing surgery
Vulval disorders
Genetic gynaecological cancers
Painful periods